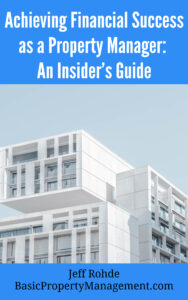 Are you a property manager looking to increase your bottom line? Or perhaps an investor wanting to make money in real estate but don't know where to start? If so, this is the guide for you!
Written by Jeff Rohde – a Certified Commercial Investment Member (CCIM) with over 30 years of experience in the industry. This comprehensive book covers everything from how to choose the right property management fee, getting paid what you're owed through collecting leasing fees, increasing your bottom line by charging for maintenance and project management services and much more!
Property Management 101
The world of property management can be intimidating without the proper guidance. This book provides all the information you need to know about being a successful property manager. From rent collection and eviction processes, understanding common fees associated with property management businesses, project management services and even how to stay on top of your accounting – if it's related to property management then it's covered in this book!
Reliable Advice from an Industry Expert
When it comes to achieving financial success as a property manager there's no better guide than Jeff Rohde. With nearly three decades of experience in the field, he knows exactly what it takes to be successful in the world of real estate investing. Plus, his simple yet effective advice is easy for anyone to follow so you can start making money right away!
You'll Learn:
An Overview of the Property Manager's Job Duties
How to Choose the Right Property Management Fee for Your Business
Get Paid What You're Owed: A Guide to Collecting Leasing Fees
Selling Property and Earning a Commission: The Basics for Property Managers
Increase Your Bottom Line by Charging for Maintenance and Project Management
How to Know if a Prospective Client is Worth Your Time
How to Stay on Top of Your Property Management Accounting
Why Some People Love Being a Property Manager . . . And Why Others Hate It
Jeff Rohde is also the founder of J. Scott Digital – a company providing freelance copywriting and content creation services to real estate, property management, insurance, and accounting businesses – and publisher of the Basic Property Management blog.
Learn How To Make (More) Money Now
With Jeff Rohde's Achieving Financial Success as a Property Manager: An Insider's Guide! This comprehensive book contains over 35,000 words of clear and concise information to help you understand everything about property management and how to increase your bottom line. Claim your copy today on Amazon, Books2Read for Apple, Barnes & Noble, Kobo, Scribed and 8 more sellers with both eBook and print editions or Payhip as an eBook!
Don't miss out on your chance to make money in the real estate industry – get Jeff Rohde's Achieving Financial Success as a Property Manager: An Insider's Guide now!
Claim Your Copy Today!
Books2Read for Apple, Barnes & Noble, Kobo, Scribed, and 8 more sellers with both eBook and paperback options available
Payhip as a downloadable PDF